Kickball - Tuesdays - Cayce (Spring) (Archived)
Program Description
Read Below For League Details: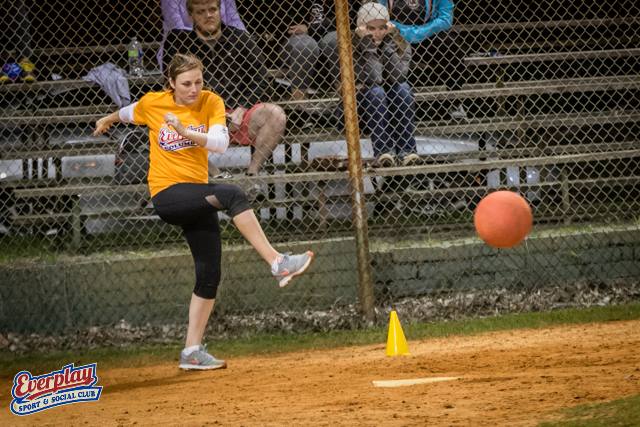 This league is for players of all ability levels.
Kickball, just like you remember from middle school, except with a beer after the games! Kickball is a sport for people of any athletic ability and a great way to make new friends. We'll be playing Tuesday Nights in Cayce. Game times between at 6:30 and 9:00 PM.
This league features:
Co-ed, over-21 play, 10 vs 10 (Gender Minimum of 4, Gender Maximum of 6)
Official Everplay Columbia T-Shirt (your uniform for the season!)
Outdoors
7 Scheduled Games + Playoffs for Top 6 Teams (Bottom 2 Teams in Toilet Bowl)
An Independent Referee for each game (no player reffing!)
Socializing at the bars after the game.
Sign up by yourself, with a group of friends, or a whole team
All Players, who play in any game(s), MUST be registered with that individual League, have paid the League Fee, and have signed our Online Waiver to Participate in ALL Everplay Columbia Sports! If "illegal players" are found, there are gameplay penalties. (See League Rules)
Sponsor Bar - Please Drink Responsibly!
Tin Roof - 1022 Senate St, Columbia, SC 29201
LEAGUE SPECIALS
$5 Bud Light Pitchers, $3 Michelob Ultra Bottles, and $5 Quesadillas
Drinking at City of Columbia, Lexington County, or Richland County Parks is Illegal.
Program Details
Format:
Co-Rec
Official Rules:
Kickball Rules
Location:
Cayce - B Avenue Ball Park
Registration Dates:

Now — Feb 8, '17 Early Savings

Feb 9, '17 — Feb 22, '17 Regular & Team Deadline

Feb 23, '17 — Mar 21, '17 Late

Max Teams:
16
Team Roster:
14 Players Minimum, at least 5 of each gender. No Maximum.
First Game Date:
Tuesday, March 7, 2017
Last Game Date:
Tuesday, April 25, 2017
Postseason Format:
Top 6 teams
Individual Price:

Early Savings

$39.00

Regular & Team Deadline

$45.00

Late

$55.00 (See Refund Policy)
Team Price:

Early Savings

$39.00 per person

Regular & Team Deadline

$45.00 per person

Late

$55.00 per person (See Refund Policy)